---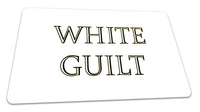 Some people are so against racism that they in turn will speak out against their own race in a public display of racism to get the approval of racist people of other races to prove that they are not racist.
Give the "White Guilt" card to the lowlife treehugging Social Justice Warrior in your life!
Buy 2, Get 1 FREE - Buy 5, Get 5 FREE - Buy 10, Get 15 FREE  Free Shipping!  Your FREE product/s will be added to your order automatically!